Community Benefit Dinner
September 25, 2019 @ 4:00 pm

-

7:00 pm
You're invited to join us for our 2019 Community Benefit Dinner at the Martindale Fellowship Center in Ephrata, PA!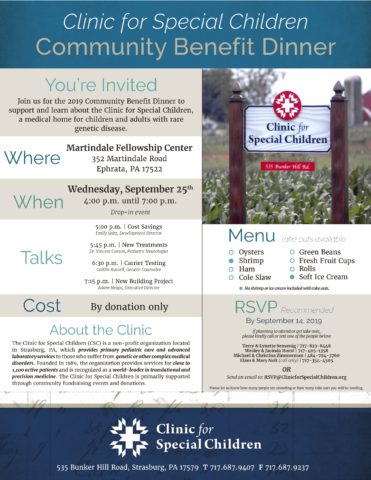 Join us to support and learn about the Clinic for Special Children, a medical home for children and adults with rare genetic disorders. Throughout the evening, there will be talks by CSC staff members on cost savings, new treatments, carrier testing, and our new building project!
The buffet-style menu will feature oysters, shrimp, ham, coleslaw, green beans, fresh fruit cups, rolls and soft ice cream. Cost is by donations only.
To RSVP (recommended) by Sept. 14, please see contact information below.
Terry & Lynette Sensenig | 717-823-8448
Wesley & Jacinda Horst | 717-405-1358
Michael & Christina Zimmerman | 484-794-3760
Elam & Mary Nolt (call only) | 717-354-4505
or email RSVP@ClinicforSpecialChildren.org.
We look forward to seeing you on Wednesday, Sept. 25th!