Welcome to the Clinic for Special Children press room! Stay informed on the latest news and press releases related to the Clinic and access information, downloads, and contact information.
Press Kit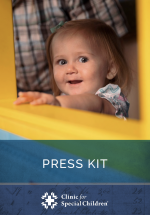 Our press kit highlights our work in translational medicine and research, how our work is supported, who leads our organization, and more!
Download Press Kit
Press: Magazine Feature Stories
Help us to continue to provide patients with timely, affordable and effective care!
Our clinic serves as a trusted medical home for families working to prevent and treat genetic illness in their children. Serving predominantly Amish and Mennonite families, the sturdy, timber-framed building was "raised" by the hands of those in the Anabaptist community outside of Strasburg, PA. Inside the clinic is filled with an array of high-tech gene sequencing that allows us to deliver state of the art care in a nurturing environment.
Support the Clinic