Welcome to the Clinic for Special Children press room! Stay informed on the latest news and press releases related to the Clinic and access information, downloads, and contact information.
Press Kit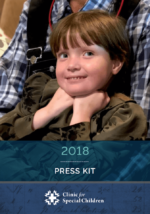 Our Press Kit includes biographies on our leadership team, general information about the Clinic and our supporters and collaborators, and details about our services.
Download Press Kit
Press: Magazine Feature Stories
Franklin & Marshall Magazine, Field of Genes. E. Schoeniger
Pitt (University of Pittsburgh), Sweet odyssey. CJ Hayden, Spring 2006
Pittsburgh Magazine, Between science and faith. R Lord, February 2005
Mosaic (Trinity College), An innovative pediatrician in an insular community. L Virostek, November 2001
Current Science, Mending genes. RS Ebersole
Franklin and Marshall, On The Trail of a Once Deadly Disease. T Flannery, Autumn 2000
Pennsylvania Medicine, Amish country doctor. F Baldwin, Summer 2000
Fortune, Can Gene Therapy Cure This Child?. M Wadman
Central Pennsylvania Life, Doctor to the Plain people. R Reitz, Winter 1998–1999
Contemporary Pediatrics, A doctor whose most important teachers are children. J Asch-Goodkin, October 1996
Johns Hopkins Magazine, A doctor who's brought hope to the Plain people of Lancaster, Pennsylvania. M Hendricks, November 1994
Pediatric News, In Amish country, some very satisfying, wonderful work. C Pierce, December 1993
Harvard Medical Alumni Magazine, Improved prognosis: Clinic raising in Amish country. T Rutter, Winter 1990 - 1991
Help us to continue to provide patients with timely, affordable and effective care!
Our clinic serves as a trusted medical home for families working to prevent and treat genetic illness in their children. Serving predominantly Amish and Mennonite families, the sturdy, timber-framed building was "raised" by the hands of those in the Anabaptist community outside of Strasburg, PA. Inside the clinic is filled with an array of high-tech gene sequencing that allows us to deliver state of the art care in a nurturing environment.
Support the Clinic