Caring for a Neighbor Facing Rare Disease
The Esh Family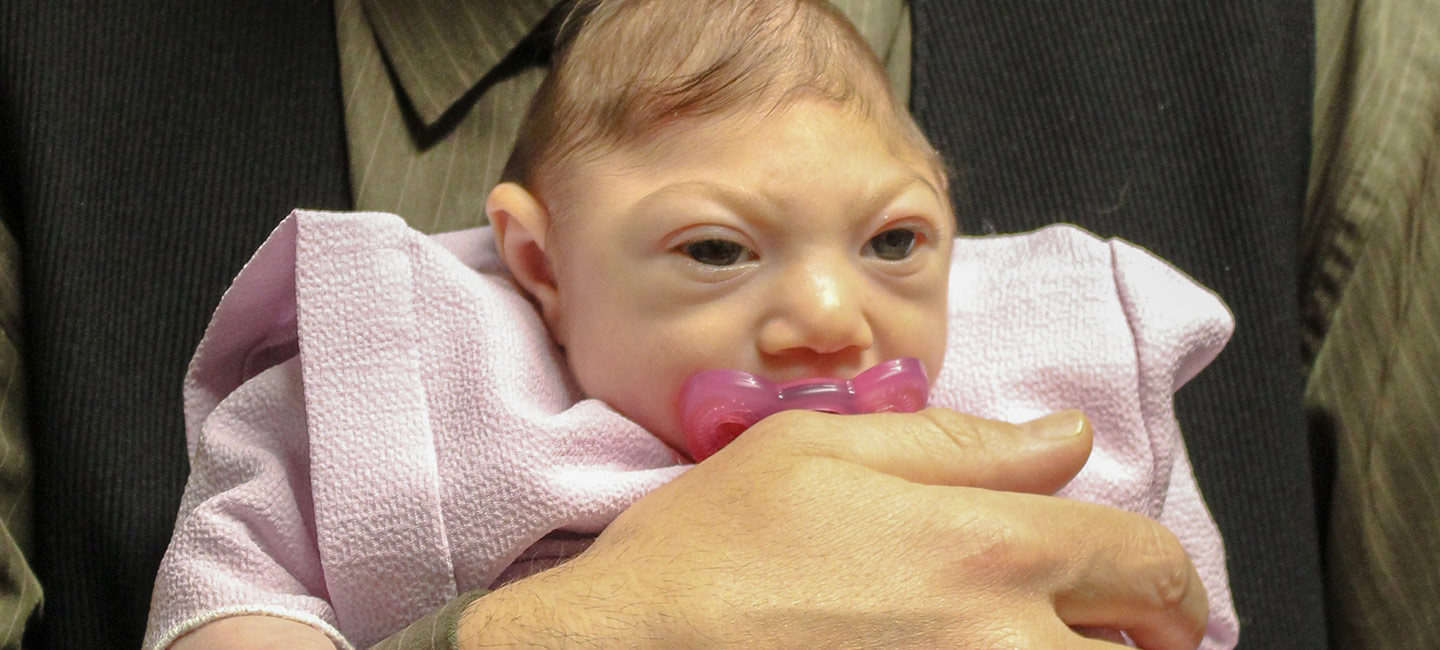 Jake and Mary Jane Esh, along with their four children, have lived as neighbors to the Clinic for Special Children in Strasburg for a number of years. They heard about the Clinic's work in the community and even participated in our annual 5k race, but never thought that they'd need the Clinic's services for their own family. When they welcomed their daughter, Caroline, in the Spring of 2021, they were grateful to live so close to the care that they would need for months to come.
When Caroline was born, Mary Jane noticed her daughter's small head and knew her newborn had Amish Lethal Microcephaly (ALM). ALM is a rare genetic disorder in which an infant is born with a very small head and underdeveloped brain. The disorder is almost always terminal by one to two years of life.
"The midwife called the Clinic shortly after Caroline's birth and Keturah came over that same afternoon. She brought over a basket of comfort items that included a fan, weighted blanket, soothing toys, and formula. It was such a comfort to have the Clinic there for us," Mary Jane explains. This visit by Keturah Beiler, Nurse & Cherished Lives Program Manager at the Clinic, was the first of many home visits to occur over the next several months. With Caroline's terminal diagnosis, the family enrolled in Cherished Lives, the Clinic's home-based palliative care program (learn more about this program on pages 4 and 5 of this newsletter).
As a part of Cherished Lives, Keturah and Clinic physicians would continue to meet with the family to discuss their goals of care for Caroline and learn how to best support the family during this time. "It's hard to put into words what the Clinic's support meant to us. It was a relief to be so close to the support that was so well provided to us," explains Jake and Mary Jane.
The Esh family expressed how grateful they were for the Cherished Lives program through the Clinic, "the palliative care at the Clinic is a big improvement from even just five to 10 years ago. The care and support you are providing families along this journey is indispensable. Keturah's visits to our home were bright spots for us, as well as our children. Cherished Lives was a very uplifting, encouraging, and supportive program for us. We are thankful that it was available to us and to other families."
Sadly, Caroline died in August 2021 at five months of age. The family continues to keep Caroline's memory alive by sharing about their times with her as a family, plaques and memory tables with mementos from Caroline's life, and connecting with other families facing ALM. "We had a lot of support from our community during and after our time with Caroline. Although we have deeply grieved our loss, Caroline brought our family so much joy and we feel having one of God's special little ones with us was a rich experience – one we would not wish to trade. We have reason to thank God with all our hearts. His mercies are new every morning," says Jake and Mary Jane.
At the Clinic, we feel grateful to have known Caroline and to have her cherished life bring us closer to our neighbors.