Community Benefit Take-Out Dinner
October 14, 2020 @ 4:00 pm

-

7:30 pm

Donation-based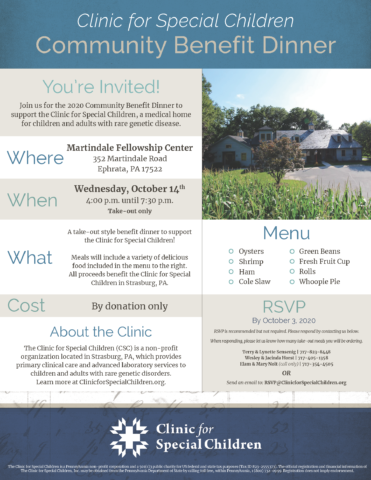 You're invited to join us for our 2020 Community Benefit Take-Out Dinner at the Martindale Fellowship Center in Ephrata, PA!
Join us to support the Clinic for Special Children, a medical home for children and adults with rare genetic disorders.
The buffet-style menu will feature oysters, shrimp, ham, coleslaw, green beans, fresh fruit cups, rolls and a whoopie pie. Cost is by donations only and all meals will be take-out only.
To RSVP (recommended) by Oct. 3rd, please see contact information below.
Terry & Lynette Sensenig | 717-823-8448
Wesley & Jacinda Horst | 717-405-1358
Elam & Mary Nolt (call only) | 717-354-4505
or email RSVP@ClinicforSpecialChildren.org.
We look forward to seeing you on Wednesday, October 14th!