Amish Research Clinic Conference | Genetics in the Plain Community and the Facts about Lyme Disease
October 6, 2022 @ 8:30 am

-

3:00 pm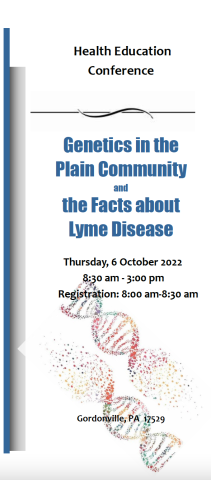 You are cordially invited to a one-day conference about genetics and its effects on health and healing among the Amish and Mennonite communities, as well as Lyme Disease—facts, myths, and treatment options. Registration is required by September 16th.
This educational program is free and will include the science about genes, the molecules that help make you who you are, and what's currently known about Lyme Disease. In the first part of the morning,
subject-matter experts from both the University of Maryland School of Medicine and the Clinic for Special Children will describe the basics of genes and chromosomes, and discuss some of the genetic variants that are more prevalent in the plain community. Genetic counselors from the CSC will also discuss genetic return of results in their setting and explain the advantages and disadvantages of genetic carrier testing for
couples.
In the second part of the morning these experts along with others will convene as a panel after the presentation to address questions from the audience and foster thought-provoking discussion. Based on input from the Plain community, Lyme Disease was identified as a topic of interest. During the afternoon session, University of Maryland Lyme Disease and Integrative Medicine expert Kalpana Shere-Wolfe, MD will separate fact from myth, inform on what steps to take if exposed/infected, outline the treatment options, and describe preventative measures.