Laboratory Technician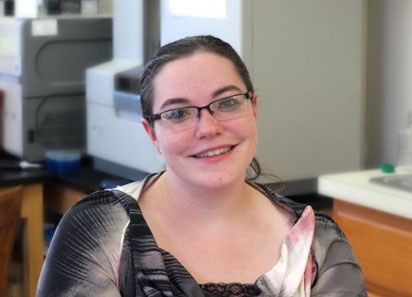 Mindy earned a Bachelor of Science degree in Biology from Creighton University in 2007 and a Master of Science degree in Biology from the University of Nebraska at Omaha in 2011. Prior to working at the Clinic, she worked in a number of genetics laboratories. She and her husband moved to the Lancaster area in 2014.
Mindy joined the staff as a Laboratory Technician in 2014. She develops and performs various assays to support the Clinic's research protocols. In particular she designs oligonucleotide primers to Sanger sequence variants for validation purposes, runs microarrays, and designs high resolution melting curve analysis assays. She serves on the lab's on-call team to run assays on the nights and weekends.
Why are you passionate about the Clinic?
As someone who has worked in a number of commercial labs, I appreciate that the work I do on a daily basis helps people. It is exciting to me when I can verify a new variant that answers some of a family's questions.