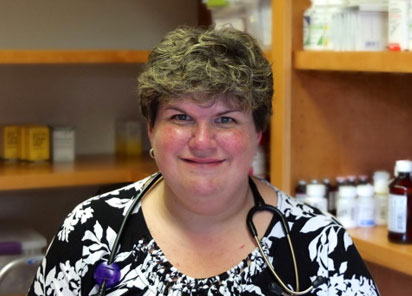 My name is Millie and I have been a nurse at the Clinic for Special Children for almost 3 years.  I work primarily at the Clinic as Dr. Strauss's nurse, handling daily patient care and issues.  I also work with Dr. Strauss on several research projects, which will help us to understand and care for our patients better.
I have a Bachelor of Arts degree in Biochemistry from Immaculata College.  I also have an Associate's degree in nursing from the Lancaster Institute of Health Sciences.  And I am currently finishing my Bachelor's degree in Nursing at Villanova University, where I will also go on to obtain my Master's degree in nursing and my Nurse Practitioner training.
Prior to working at CSC, I worked for 18 years at Lancaster General Hospital.  I worked 17 of those years on the Pediatric Unit, 12 years as a nurse, where I cared for many Clinic patients.  I am a certified Pediatric Nurse, and I am also certified in Pediatric Advanced Life Support (PALS).
Why are you passionate about the Clinic?
I am passionate about the clinic because the Clinic shows that medicine can be about the patients.  We are focused on giving the patients what they need at a price that is reasonable.  The work at the clinic is done for the patients and done by people who care about those patients.