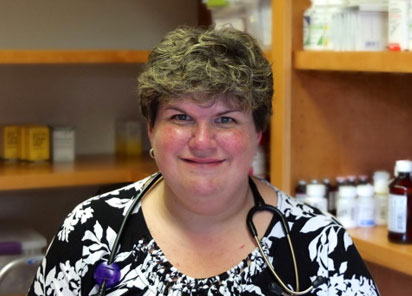 Millie has been a nurse at the Clinic for Special Children for almost 3 years.  She works primarily at the Clinic as Dr. Strauss's nurse, handling daily patient care and issues.  She also works with Dr. Strauss on several research projects, which will help them to understand and care for our patients better.
Millie's educational credentials include a BA in Biochemistry from Immaculate College and a BSN from Villanova University.  She also has an associate's degree in nursing from the Lancaster Institute of Health Sciences. She plans to continue her education and obtain a master's degree in nursing.
Prior to working at CSC, Millie worked for 18 years at Lancaster General Hospital.  She worked 17 of those years on the Pediatric Unit, 12 years as a nurse, where she cared for many Clinic patients.  She is a Certified Pediatric Nurse, and is also certified in Pediatric Advanced Life Support (PALS).
Why are you passionate about the Clinic?
I am passionate about the clinic because the Clinic shows that medicine can be about the patients.  We are focused on giving the patients what they need at a price that is reasonable.  The work at the clinic is done for the patients and done by people who care about those patients.