TED Circle at the Clinic for Special Children
November 5 @ 6:00 pm

-

8:00 pm

Free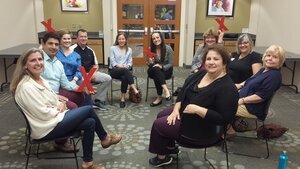 The Clinic for Special Children will be hosting a TED Circle on Tuesday, November 5th from 6-8pm.  The TED talk video will be determined by mid-October, which is when TED will reveal the theme and suggested TED talk videos for November.
To register for this TED Circle session, visit the link HERE.
About TED Circles
Want to be part of a worldwide pilot program through TED?  TEDxLancaster is hosting TED Circles at various locations throughout Lancaster County.  TED Circles is a new TED initiative where community members come together to watch a TED talk video, then discuss and debate the ideas from the talk. The goal of TEDxLancaster's TED Circles is to have a dialogue from diverse points of view so that attendees, and thus our community, can learn about different perspectives, philosophies, and perceptions in a safe, open, welcoming, and informal environment.  The goal is to promote inclusion, tolerance, understanding, and empathy and create an informative, thought-provoking, and educational culture.  TEDxLancaster's TED Circles aims to bring our community together in these divisive times. Think of this as neighbors talking with neighbors in a very informal, laid back atmosphere. The discussions will be moderated by TEDxLancaster Executive Director Bob Vasile.
Currently, there are about 150 pilot hosts representing 40 countries participating in a pilot program from September through November 2019 in order to shape the official worldwide launch of TED Circles in January 2020. TEDxLancaster has volunteered to be one of the 150 hosts worldwide! Come join us and be a part of TED history!